I'm so excited

, I received my new glitter tattoo poster in the mail yesterday from VP. I had been feeling down all day (family issues) and as soon as I unrolled it, my mood was instantly lifted. I think it's going to significantly increase my tattoo turnover... previously I've been displaying the stencils as black silhouettes with a single pic example. Now, well, all the designs are displayed in full colour glitter.
So, who wants to see my new poster?
Uh, yeah! I hope it rocks your world at your next event!
Come on and show it! You've piqued my curosity!


martha




Number of posts

: 1951


Age

: 59


Location

: Searcy, AR


Registration date :

2011-05-22



Okay... drum roll please... here it is (with my watermark - I spent many hours working on it - hope you understand). If you want me to email you a high res jpeg copy for a small fee, you can PM me for details... I've designed it to fit the VP small banner size, roughly 90cm x 57cm.
If you want to do something similar for yourself, by all means, go for it. Just as long as you don't work in my neighbourhood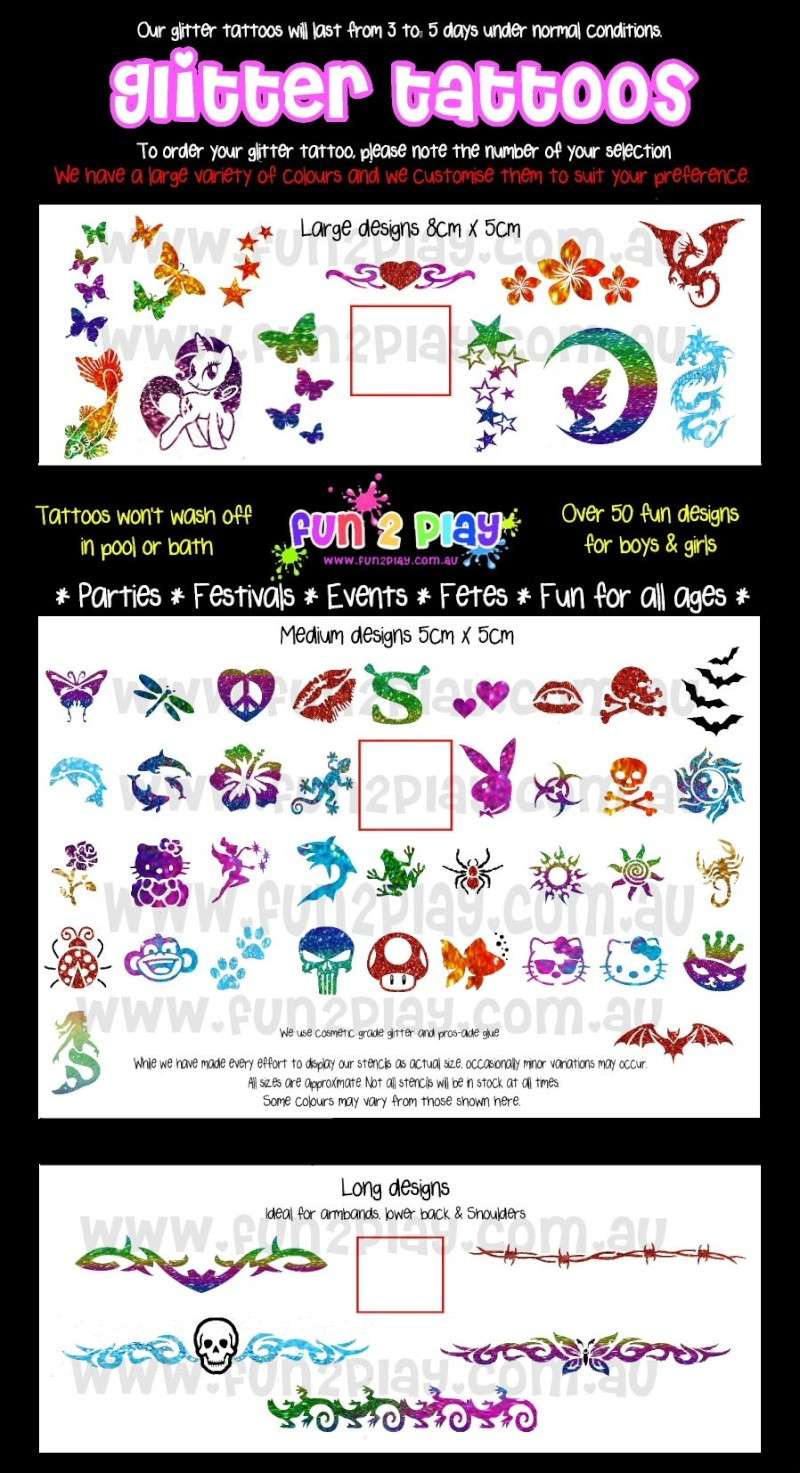 Here's how I transformed the designs from black to the full colour glitter look: I made the black silhouette transparent (a mask) and then created another layer - under the transparent mask - in which I placed photos of glitter. Took a little time, but I am happy with the result.
I can't wait to put it in action on Sunday when I have my next market gig. I think it will be much better at giving potential clients a better idea of what they are buying. Many have never seen glitter tattoos before.
Oh, and of course the blank boxes in the centre of each group are for prices. Still undecided... $5(m), $7(l), and $9(xl) or $6, $8 and $10...??? I have been charging $5 and $7, but sometimes those stencils are just so fiddly that I think maybe I should be charging a dollar or 2 more. Thoughts?
Goddam girlfriend, that looks amazering! I will have one of each thanks!

I can't quite picture how you did it, but that's ok.

I had a lady say to me today when I did her two nephews "wow, so cool and fantastic" etc. She didn't realise that they were coloured, because I only have the displays on black and white.

You will sell so many! Good for you, again amazing.
Fantastic, but do you think if they are all glitter will keep the boys away?
That is brilliant! What a great idea! Did you do it all on the computer? What program do you use? I love it soooooo much!! You should paton this!

The poster had it's first day out today... glitter tattoos were more popular the painting, but it was hot and it's a coastal town - many kids go swimming - it's nice to offer an alternative and the parents see it as better value for money (you know, it won't wash off...). I always try and have one on my wrist as a demo. If the poster doesn't sell them, the sparkle always will! lol

RE: boys, well to be honest I think the word glitter probably deters many of them outright. I did a couple of boys today, but for me it's 80-90% girls/teens/mums to the odd boy anyway.

Software: I use paint.net - You could probably do it in gimp as well. Or photoshop if you have it, but gimp and paint.net are both freeware.
Just remember you are creating a mask out of the stencil and then adding a layer underneath the stencil (that has the photos of various coloured glitters).

And... score! When I was packing up my stall at the end of the day I noticed a large 'sandwich board' style frame in a nearby bin. I checked and could see nothing wrong with it... frame is painted white and it's about 180cm high x 50cm wide. My husband said it was a mirror that had broken and the stall holder threw it out. Thanks very much. The wind was a major pain today, blew my umbrella over more than once (I had to take it down)... and made things difficult, but it gave me a great XL sandwich board so I'm happy. Time to design a new poster....
could you detail the instructions on making glitter letters for me. I have paint.net but can't figure it out

SuzySparkles




Number of posts

: 2778


Age

: 41


Location

: Wisconsin / Milwaukee


Registration date :

2009-11-09




---
Permissions in this forum:
You
cannot
reply to topics in this forum