I was surprised when my Glimmer Body Art Business Kit didn't come with the 35 glitter jar palette, but when I looked more closely at the picture I realized the boxes the glitter jars came in were placed next to each other and it looked like I would be receiving a palette. Is it worth me going back to that site and ordering a blank palette for $25. I figured it would prevent spills. I have looked through the Glitter Tattoo forum and see various set ups and not one with a palette. Have you used one? How did it work out? If you have found a better method, please share (photos are great too). Thank you much!

I bought a bead box for around $10 from the discount store. Comes with 25 stackable screwtop jars (that I fill and refill). It's nice and secure and I love it. I found that the screw top lids from glimmer came apart easily - on their own. It didn't take long for my kit to be christened. So when I discovered this type of storage/transport solution I was happy. Nice, neat, small, secure. If I had a pic I'd post it for you.
I like the upscale presentation of the palette for indoor events, but will take poofer bottles for outdoor ones. Happy with both methods, but the palette definitely is worth the investment for clients who like to showcase you.
Thanks Fun2Play & Anniel. I think I might get both. I haven't done and indoor glitter tattoo event yet, I'm scared of making a mess as I'm not so neat.
Hey, it improves with time...I used to come home with my equipment ready for an hour long clean up, and would wash my hair just to get the paint off my arms, hands and fingernails! Now I actually can keep my stuff clean enough to not have to re-do it after every gig! (Unless it's long and at the end I just don't care and wanna go home!) I feel for you!
I saw Shannon's pristine kit in action at this point and aspired...
I just have little containers or even a poofer.

AshleyMarie727




Number of posts

: 525


Age

: 29


Location

: Baltimore, Maryland


Registration date :

2010-12-14



The stackable ones are a pain in the butt.
I bought a clear box with twelve 2 inch containers inside. I unscrew each top at the beginning of an event but keep them all inside the carry case. It is approx. 9x6 big. So, I just work out of that. The kids can pick their colours and voila. Just screw back on the lids at the end.
The containers being more taller prevents the wind from blowing my glitter all over. I just keep them filled hald way.

My son loaned me his screw-stack for a quick add-on gig--and every other time I opened them, I did it upside down and end up with a handful of glitter...
I ordered the palette from WOW Factor Stuff. They offered the palette that holds 35 (Glimmer offers 30 colors of glitter), so I went on another website and ordered 3 Black mica 10g jars and 2 Dark Blue mica 10g jars. I will mix them to make a cool color that would make for a more realistic looking tattoo. I'm still waiting on my stencils from faketoos. I also ordered Wolfe Black & White in 90g pots. Since I have started face painting I have never worked with Wolfe Black or White because I could never find them sold on the same site. I finally broke down and purchased them from two different sites, paying two separate shipping costs.

That's really off the topic of Glitter Tattoos. I hope my palette works out for me.
I have the Glimmer palette and love it. I didn't order it separately from the glitter.

Pros:
LOTS of colors
I can see which colors are the most popular and just bulk-order those in the future and let the less popular colors run out
LOTS of colors
Little girls, both big and small love choosing a few colors of glitter from the selection
Boys love that it contains black, bronze, and gunmetal colors
I can open just what I need and keep every other color tightly screwed closed
I find I like loose glitter and a paintbrush better than poofers for glitter tattoos as well as applying colored glitter to specific areas of designs (ala Pashur glitter-rocks type designs). I use my poofer with white iridescent glitter for regular all-over glitter on fast faces.

Cons:
LOTS of colors can mean sometimes it takes a person a while to choose, so depending on the gig, I don't always offer a choice.
The little containers are NOT wedged super tightly in there. I had a person knock into the palette and I lost nearly all my purples =(
The foam is less dense than my paint palette foam, so you can't just "wipe it off"
The foam is glued into the palette, so you can't take the foam out to dry separately
Do you mean these? I call them my glitter-strip-pots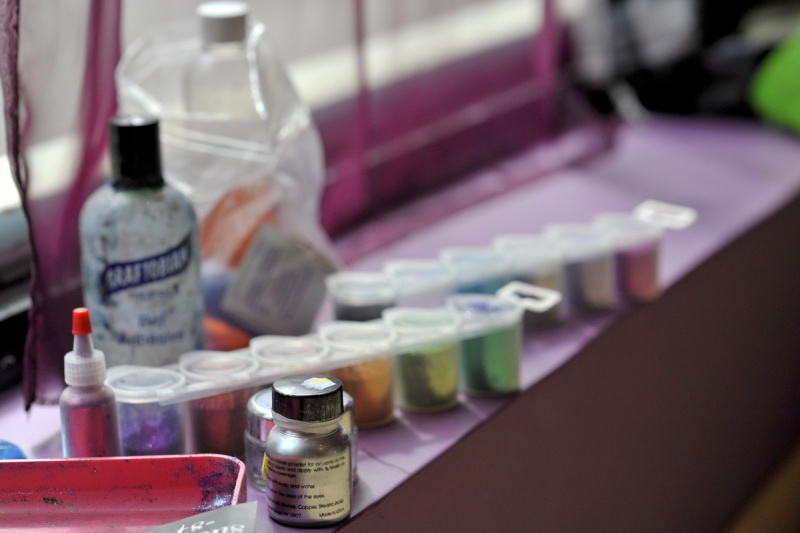 I have them and poofers in my kit and which I use does vary.
The strip pots are better than most of the pill box strips you get as they are more air/water tight, a lot of those pill/ craft boxes leak glitter. And I did have the screw-on lid ones (like you sometimes see as split cake holders) for a while but they were just a pain. These are a nice size to hold though, not too long and not too bendy.
These flip top lid ones are pretty good but you do have to be careful - they smetimes pop if not shut properly AND also can pop open if dropped. (Yes I did - DOH!).
Cat x

---
Permissions in this forum:
You
cannot
reply to topics in this forum