Hi All,
Wanted to share the display board I made for my stencils. I took a plastic display board, cut out 1 inch upholstery foam to the same size and wrapped the whole deal up in felt. I used velcro (hook & loop) tape to keep the felt on so it's not permanant and I will be able to change the cover fabric to match themes if I want. Then I used multi colored pins to stick the stencils up. It's great because I can easily change out the stencils, at the last party I just did, I only displayed the ones that would appeal to the 7 year-old girls at the party.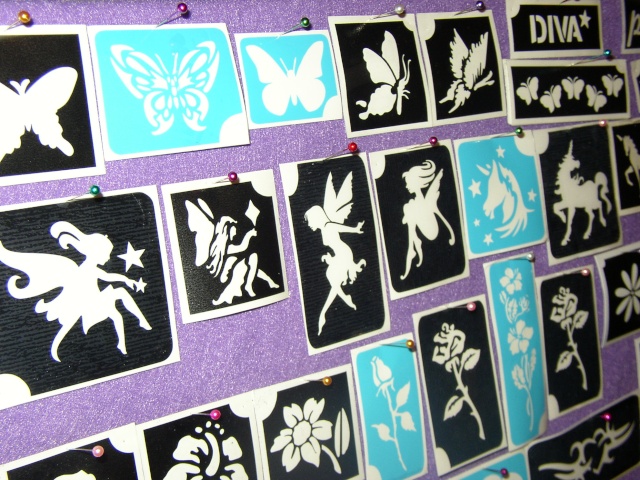 Next, is the storage case that I've had my eye on since it was first stocked at Michael's a couple of months ago. It's made for photos but I immediately thought it would be perfect for storing my stencils. Yesterday I saw it for 40% off and snapped it up, still cost $23.95 US though, but well worth it in my opinion. The only thing left is to make labels for what's what in the case.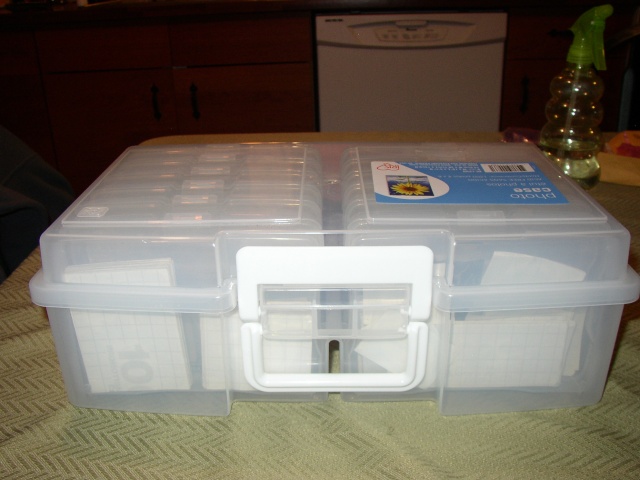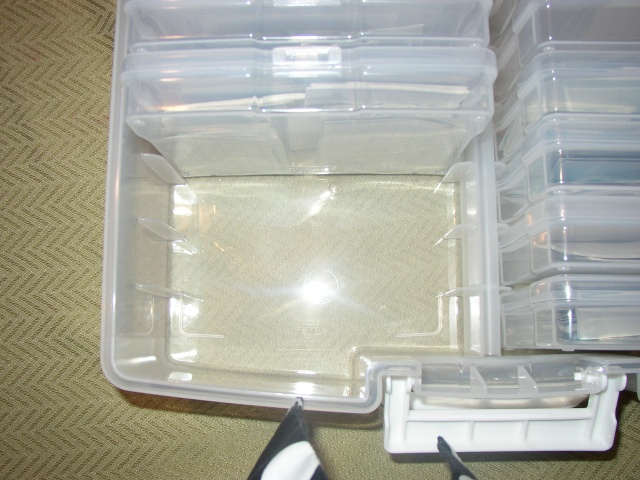 I love that photo holder for the stencils! I always use my 40% off Michael's coupons for stuff like that so I don't have to wait for a sale. You can get them if you sign up at www.michaels.com (look at the bottom where it says "Sign up and receive special offers' coupons and inspiration.")

What kind of plastic display board are you talking about?
Ha, ha, I am signed up and went in there to use my coupon on it, but it was 40% so I used the coupon on something elses. The plastic board is super dense foam core which is essentially hard plastic.
Thanks for sharing! I've been thinking about how to display my stencils and you gave me some great ideas.
I copied my stencils and put them into a book and number coded them. I found an old case that held slides and use that for my stencils and keep them in numerical order. That way too, once I use one, I write the number down and use it to keep track of my inventory so I know when to order more of a particular design.
Great board & case idea!
I photocopied all my stencils onto card stock keep them in plastic sleeves on my board. I then have a 3 ring binder with trading card sleeves in it. I had to velcro dot the top of each sleeve as we used to have trouble with the stencils falling out.
I'd love to see everyones set-up!
I love the display board but I think I would the velcro spots instead of the quilting pins. If you have ever had one stick you well it hurts.. looks like to me some one could just pull out the pins..hopefully not....just concerned..
but the board looks great.
maybe you could push the pins in futher
barbb919 wrote:I love the display board but I think I would the velcro spots instead of the quilting pins.
Do you mean putting velcro on the back of each tattoo? That wouldn't really work for me because I put multiples on each pin. That way I can see right on the board how many I have left.
No one can get close enough to it to hurt themselves. I keep it very close to me now-a-days more for fear of "sticky fingers." I've had a couple of stencils walk away in the past.
Such an awesome idea. It makes me what to add more glitter tattoos to my selection.
I love looking at all these, I'm still flaffing about trying to find the right box!

fendercat




Number of posts

: 4


Age

: 43


Location

: Cornwall, UK


Registration date :

2010-08-23



Love the photo holder idea...

---
Permissions in this forum:
You
cannot
reply to topics in this forum