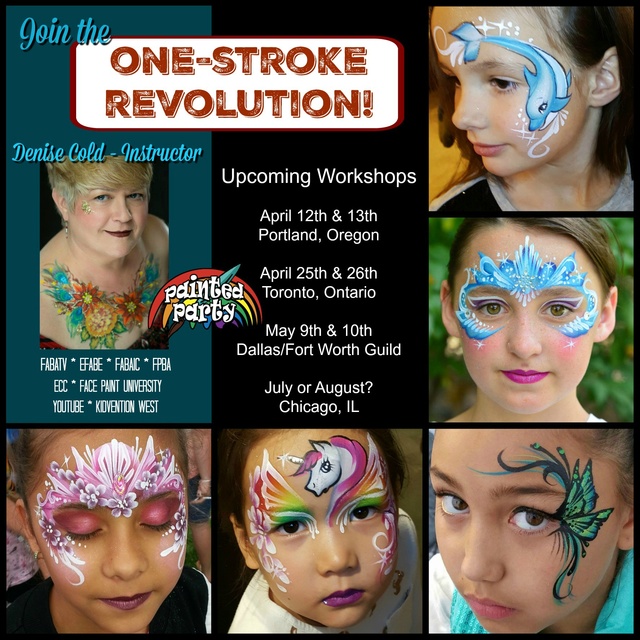 There are a few spots left in the Portland & Toronto One-Stroke Revolution workshops and we're just starting to fill the Dallas/Fort Worth workshops and I will lecture at the guild meeting too. There will also be a Clowns Canada guild meeting in conjunction with the Toronto visit.
Please email me at denise (at) paintedparty (dot) com or message me on Facebook to find out more and to be invited to the Facebook event pages for more details. We will be doing a Advanced Decolletage class in Portland for the second day, and Advanced One-Stroke Elements & Design in the Toronto & Dallas workshops for day two.
I'll also be an instructor at Kidvention West in August and FPBA St. Louis in November and will teach a pre-class then.
If you want to join the One-Stroke Revolution in face painting, now is the time. I take you from loading the brush to coming up with your own unique one-stroke designs over the course of two days. We cover simple flowers, flames, balls, feathers, leaves, snowflakes, princess crowns, blossoms, gashes, butterflies, sea shells and the swirls and curls to embellish them. Day Two we get more complicated with roses, lilies, poinsettias, scrolls, sharks, dinosaurs, dolphins, unicorns, birds and you start designing your own deluxe party designs using all the elements you've learned.
Hope to hear from you soon!
D.
Denise Cold is an AWESOME teacher.
She truly wants you to get better.
My skill set has improved immediately after taking one of her classes. I cannot recommend her classes enough.
If you want your artistry to go to the next level, take Denise Cold's classes.

And...
Denise Cold did not pay me anything to say this.
xoxo
Although I might now! Thanks! I hope to see you again soon!

D.
I cannot be bought, Denise Cold!
I can, however, be lured away with cookies.
xoxo

---
Permissions in this forum:
You
cannot
reply to topics in this forum