Hi,
I was just wondering if any of you have tried glitter lips as part of your services. I found a youtube video, and also search for the products that they use to make these. the ones I found seemed to be similar to the glitter tattoos we use, only for the lips. My concern would be about the struggle to remove these from the lips. But I do think that the girls would really love them. They look very nice. Just wondering if I should look into adding them my self.
I will try and find a link and post it soon to the youtube video and sale site.
video: https://www.youtube.com/watch?v=WQDKT7yvhYU
Sale: http://www.ebay.com/itm/201390105370?_trksid=p2060353.m1438.l2649&var=500581932573&ssPageName=STRK%3AMEBIDX%3AIT
Thanks
Amy.
No. They have to be cut to fit lips that are smaller and different shaped, and are really awful.
These ones are not a stencil application, but a glitter glue application. I have seen the ones you are talking about, and they are two different things. I know that you can also apply the loose glitter to a chap stick, to make it less adhesive. If you look at the links you can see that they are applied with some kind of glue. I am wondering if it is the same glue as we would use with the glitter tattoos, because I would imagine it would be a nightmare to take off. But they look so nice, I know the teens would love them.
They look like this: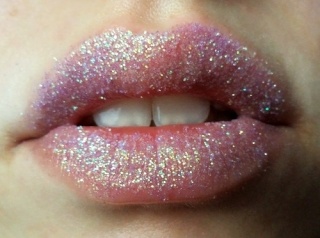 *this is not my photo, I found it on buzznet by Audrey Kitching *
Amy

---
Permissions in this forum:
You
cannot
reply to topics in this forum