I've been painting my face and performing for a while, and have always used grease paints because I do a lot of moving around and sweating. I recently tried Wolfe paint which I knew would probably run into my eyes, what I didn't know was that it would leave my vision blurry for a few days and burn like heck. I came off stage and was pretty much blinded. Anyway, I switched to a water based paint because the grease paints that I've used have always been super heavy. I have to wear it for hours on end and it has never been comfortable.
My question (or questions) is, are there any water based paints that won't blind me when it sweats into my eyes, or are there any grease or other type paints that don't feel heavy? I don't know if it matters, but I use the color black around the eyes. Any knowledge or tips is greatly appreciated. Thank you.

dvdhutto




Number of posts

: 2


Registration date :

2015-07-11



many face painters use mehron starblends (pressed powders in regular colors including black), or mehron intense pressed powders (saturated colors), for occasions where people sweat.

i am not sure if they would run into the eyes, and if they cause any reaction. hopefully, someone who uses them will answer that for you.

jlirie




Number of posts

: 1812


Location

: us


Registration date :

2014-07-31



In addition to Starblends as mentioned above, could also try Proaiir? http://www.facepaintforumshop.com/SearchResults.asp?Cat=1931
I've used a water-based cream like FantasyWorldwide or Fardel, then powdered it with the same colour in shimmer powders. It was for very hot days and I sweat badly around the hairline.

It works. The paint doesn't budge... and I mean it lingers! Took three days to get the colour off! LOL

But it held up!
Thanks for the replies. I may try the Proaiir, it looks like it'd be worth a shot. I'll check into the creams, but I don't like the sound of 3 days getting it to come off lol.

dvdhutto




Number of posts

: 2


Registration date :

2015-07-11



Pro Aiir Hybrid in particular is the one you want, though the draw back is you'll need an airbrush and compressor set up to use it... also using an airbrush on your own face is super tricky, best if you have a makeup artist do it for you.
If you can't drop a few $100 buck on an airbrush set up, then totally go with star blend powders, they are the next best for sweat resistant. Also you can double the effectiveness by getting some Green Marble Selr.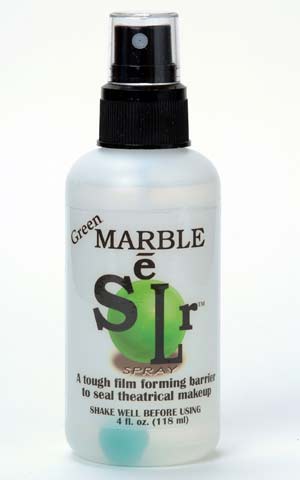 Mist yourself with some of that after applying your makeup, let sit for 5 min, and it aint going no where!

When face painting and body painting at Fantasy Fest in Key West... on sweaty people, in the humidity and rain, I have loved the recent use of ProAiir.
In the past, I have been successful with Green Marble SeLr as a primer, painting with any water based body paint, and then sealing it with a top coat of Green Marble SeLr. When painting on the face, I use Blue Marble SeLr... stings less when applying, face paint stays on until ready to remove.
True that, Blue Marble is a bit less intense for sure. Though I use green when I'm feeling 'extreme' lol like for stunt extras for movies and stuff.

Use water based creme while paint sweat eyes it will make your painting easy.
www.soperfectpaint.com


soperfect paint




Number of posts

: 33


Registration date :

2015-09-02




---
Permissions in this forum:
You
cannot
reply to topics in this forum