ok , hear me out i think this is a good idea....

i need a tent for the summer. I found this for a bargin price.

http://www.argos.co.uk/static/Product/partNumber/2952091.htm

but it does not come with any side panels. so me being me though i could use either vistaprint to get a printed " side panel" with all my info on it or i could get some tarp or canvas and diy my own panels with loads of images and colours to draw in a crowd....


should i do it?
I would pass on this one. Those kind of tents are usually meant as a sun shade. They leak if it rains. Also they are SUPER light so a minor breeze can push them easily. 

I would save and get a nice sturdy event tent that is more weather proof.

Your idea about printing your own side panels is good tho! I had a similar idea myself.
I agree, if your going to get tent it best to pay abit more, because I learn my lesson when I brought an cheap tent similar to the one you want to buy, it didn't do to well the frame of the tent is not strong and my broke after only 3 months, my brought another tent that frame was stronger and has last over 3 years, I take it with me when I do outdoor face painting gigs it was money well spent, I spend $270 on the my tent. Your idea about side panels is great idea it keep childern/people out and gives boundary so when your painting you dont have people walking around when your painting child.

sammie star creation




Number of posts

: 105


Age

: 37


Location

: West Footscray, Melbourne Australia


Registration date :

2011-12-13



I bought my tent (gazebo 3m x 3m) here in Australia for about $200. It does not have sides, but I hang some hessian in one corner if I need it to be a little more cosy!


The SmartArt Hut




Number of posts

: 6


Registration date :

2015-03-01



Also, SmartArtHut, you can purchase sidewalls separately, and place a bungee cord from post to post and drape the sidewall over the bungee, to create a half-wall. This keeps people from cutting through your tent while maintaining an open feel to your tent.

I use 'dog tie-out corkscrews' to tether my tent to the ground on grass. (The 'L' shaped tent pegs are completely ornamental.) I use very large water containers with an integrated handle to tether my tent when on cement, asphalt, or very hard packed earth. My water containers hold 27L (or 7gal). They are heavier than the sand that came with one of my first tents, and then I have a water supply on multi-day festivals.
Also to consider: At an event it's not just the elements battering the tent. Use it long enough and you'll have a kid (or maybe even an adult) run into one of the poles at full speed. At the most severe, there's the instance of the wind catching someone else's flimsy poorly-secured tent, lifting it high into the air and bringing it slamming down onto your tent.

securitywyrm




Number of posts

: 12


Registration date :

2015-02-22



Yes accidents can happen. In 15 years I've never had some one break my tent with their stupidity lol.
One time a lady sat on my flimsy plastic table I used to hold my design book. OF COURSE she broke it, because it wasn't meant to be sat on, and she fell on her naughty word.
This is the lightweight, obvious flimsy table is obvious, that she tried to sit on.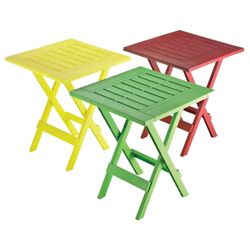 Thank god I'm in Canada, so after I asked if she was ok, she paid for the damage she caused.



Similar topics
---
Permissions in this forum:
You
cannot
reply to topics in this forum