Page 2 of 2 •

1, 2

saloner wrote:love the ez up tent but the bag ripped shortly after the festivals started.
Has anyone seen a 4X4 tent? even a 4X5 I think that would be great for JUST face painting and it would be easy for me to just quick set it up and taking it down. please let me know....(mamasbiggirl@hotmail.com)  I am on facepaintnmama/facebook
My awning/tent is 5 by 5... i do not even put it back in the bag. it lays in the trunk of my car...cross wise... right in front right when you open the boot/trunk. and it is enough room for me ... and most other people don't come in it... as it is to small. so they pretty much stay on the out side of my tent... which is a very good thing!!!! a picture of is is post on page 1.. of this post
I bought a tent with walls at Costco....$299 I returned it after 2 months, the bag ripped and it took man muscles to get it to the stand up position, The second one I only had for one month....the one leg was like soft butter, it bent. I then went to Walmart no walls ( a real drag) but it lasted the whole season and is ready for season #2. I want to get another one, just big enough for my one 6 foot table so I guess 6x something. I will charge a fee to set up and tear down for parties other than festivals. I don't need walls for that one, after reading all comments it sounds like easy up is a good brand, I have talked with people at the festivals and some really like the caravan. So I guess what ever is cheaper.
I'm sure someone on the forum told me about this originally....This has been a great tent. The bag is showing wear on the bottom because it's got wheels down there but it's made of a very sturdy ripstop fabric. Came with weight plates for cement, all the walls, a clear sign for the front. When the walls are up, I can put the little barrel beads through little holes in my signs and button them up. The only drawback has been the velcro that holds the side walls in place is a stress point and I had to repair it after a wind storm. It's three years old and I don't do ALOT of fairs, but I don't see a time where it will wear out. It will take a trip to OZ to ruin it, I think.
http://www.hutshop.com/ezupcanopies.html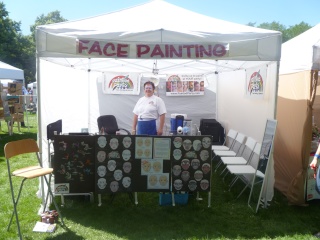 try ecanopy.com in tennessee. large selection. very good service.

JJJJJ




Number of posts

: 1053


Registration date :

2011-08-26



I have a 10x10 ez up tent and it has lasted me for 8 yrs. it isn't quite as white as it originally was. I put up sheer colored curtains, at the legs, and then colorful signs, so people don't notice the tent.
Yes, I had some bars bent and had to jury rig them to work, but all in all it still works the way it should, the best $198,. investment. Good luck ladies...

Page 2 of 2 •

1, 2

---
Permissions in this forum:
You
cannot
reply to topics in this forum