I just got into henna, and went to a wonderful henna class, and I was using some great Jamila henna mixed with only lemon juice and neroli and cajput oils, that was given to me, (it was frozen for a few months) I applied it late in the afternoon around 6 and wanted to leave it on overnight, as it dried and tightened up it got a little itchy, my skin is not red or inflamed in any way, its just a slight itch from the henna drying and tightening. It is just irritating enough that I may have trouble sleeping. I was wondering if anyone had recommendations for something I could spray on it or wrap it in before I go to bed that may settle the slight itch.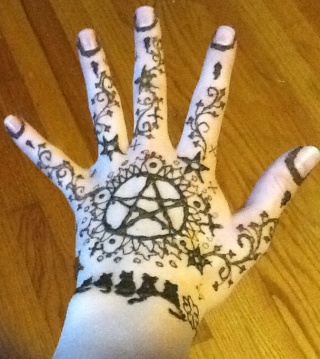 I adore henna - but it should not be itchy nor a source of misery that keeps you up at night. Some thoughts -
- Would you define yourself as typically having dry or sensitive skin?

- Cajeput can be a little strong. Maybe you had some mild dermatitis from it...next time you can try try lavender.

- Did you sugar seal? I like to use sugar/lemon juice or a scented henna caravan sugar seal spray. I once tried a scented spray that apparently bothered my allergies b/c I itched like mad afterwards.

- Do you have any allergies? I'm assuming you wouldn't knowingly put something that you are allergic to onto your skin, but you might ahve a neroli allergy. Or a cajeput allergy. Also, remember that henna made in someone's kitchen could conceivably have trace amounts of something that you are allergic too. If a bowl to make henna was used two hours prior to make cashew brownies, someone with a nut/egg/wheat/dairy allergy might have a problem.

- You didn't make it, are you sure you know what's in it? I mean that both in terms of black henna (a BIG NO-NO!) and in terms of expiration date, too much essential oil (can make you itchy and be overpowering), some people have been known to add yucky stuff to henna, and what I mentioned above regarding random food allergies.

- Lastly, it's rare, but there are some very unlucky individuals that are allergic to henna. It's not common, but it happens every once a blue moon.

It goes without saying, but if you are really itchy - scrape off the paste early and report in to your doctor for your correct dose of anti-histamine.
I think it may just be some strong essential oils, In general I usually don't like to use too many in other things I use them for. I think I may go with lavender next time,
I do have moderately sensitive skin. I did not seal it this time. I am thinking about making some seal for next time. and in the class she taught us how to mix and showed us what she used, she tends to put a lot of essential oils in. Thank you so much for the helpful advice though! I just took the paste off, and everything looks fine, i was just hoping to leave it on for a darker stain. but no more slight un-comfort.
Thanks!

---
Permissions in this forum:
You
cannot
reply to topics in this forum