I'm considering purchasing a starter kit, assuming one exists, for my son to twist while I paint. Is there such a thing, and where might I find it?
I hope this will help... I started ballooning last year. I bought a bag of 250 qualatex balloons and a small scrapbooking bag from Micheals. It seemed to work well for me. I will up load a pic in just a miniute. I have added more to it reciently for the upcoming season, but it has done we well for now.
I know that sell the balloons at the paper supply store here in CT, but other than that I buy them on ebay..
I have seen some people use the balloon holder around there waist. I prefer to have it seperate though..
Amy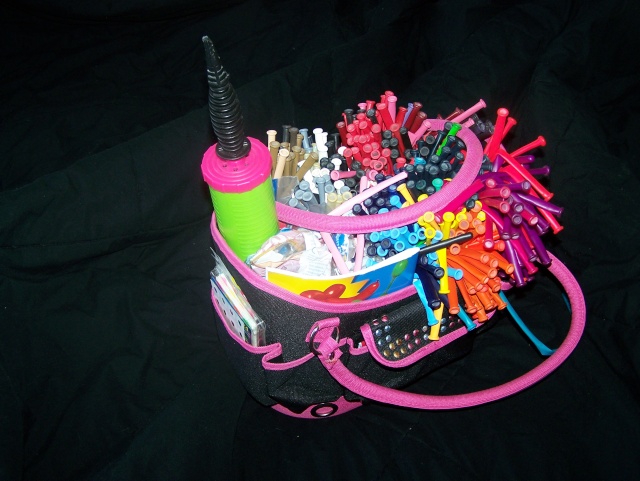 Oh, and the pump... I forgot to mention the pump.
I purchased mine on ebay with the balloons.
I looked up the person I bought mine through...here is the link,
http://www.ebay.com/itm/260Q-Twisting-Balloon-Animals-Instruction-Book-Pump-Starter-Kit-100-Entertainer-/200657073198?pt=LH_DefaultDomain_0&hash=item2eb817f42e
If that doesnt work just copy and paste it in your web browser

Amy
Last edited by creativefunfaces on Fri Mar 15, 2013 12:28 pm; edited 1 time in total (Reason for editing : to add link)
You bought the balloons from Michael's, too?
Thanks for the pic! I think he's going to wear an apron with them organized in rainbow order. It's great to see how others do it!
No, I bought the holder at Michaels. They sell the balloons at an Arrow Paper company around here. I don't know if they would have that store in your area. The only other place I have found balloons is on ebay.

Amy
Last edited by creativefunfaces on Fri Mar 15, 2013 2:11 pm; edited 1 time in total (Reason for editing : wording)
If it helps any, my boyfriend actually does balloon art. I always purchase Qualatex. You can get them at La Rocks for cheap (can't post a link due to being new.) Scroll down to the 260Q Traditional Assorted. You can either get a 100 count or a 250 count, which personally we get the 250 when just starting up. This will give you the basic colors needed.

Any pump will do, and aprons make everything super easy on hand. Oh, and some paint markers. =] That'll usually start you off well.

Personally, Qualatex is our favorite. They last a long time and can take a lot of abuse.

TwistOfArt




Number of posts

: 7


Age

: 31


Location

: Charleston, SC


Registration date :

2013-03-26



Good luck rthling...i buy my balloons from La Rocks...they ship really quick..

---
Permissions in this forum:
You
cannot
reply to topics in this forum