So my old box got broken and ive been on the hunt for lil jars to put my glitter in so i can dip instead of poof.well lo and behold i found these awesome lil jars 8sm for a $1 or 6big for a $1 at dollar tree! THEEENNNNN...i found this awesome box for $6 at Walmart! it comes apart and is so small and light...hehe..has me thinking of remaking my banner where i can fold it up neatly and stick it in there as well..cuz there is enough room for my buscards, glue, brushes and pads!! SCORE!!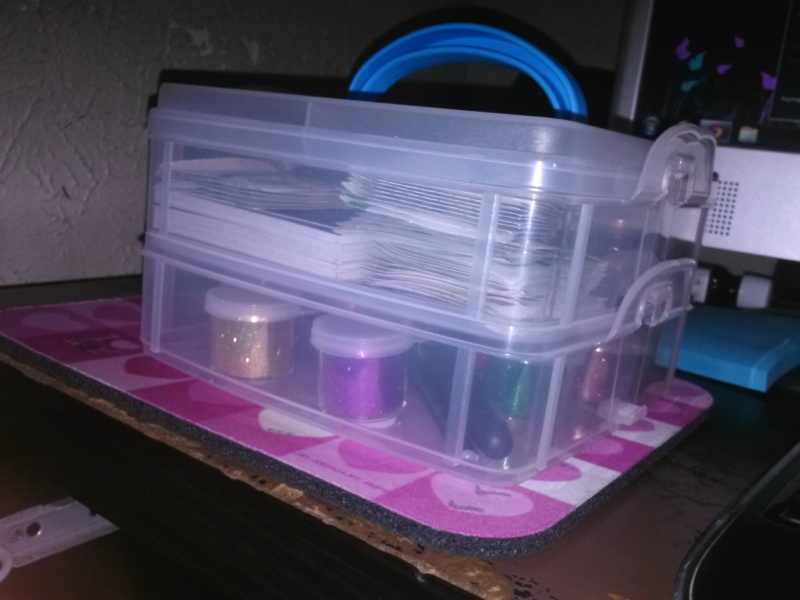 amylady222




Number of posts

: 1176


Age

: 40


Location

: San Luis Valley, Colorado


Registration date :

2012-08-04



I love it!

i dont have a doller tree in my area. its all 99cents only store

love it! Looks great.

I also use these http://www.google.com/imgres?start=113&num=10&hl=en&biw=1600&bih=710&addh=104&tbm=isch&tbnid=08H6CuoE8f4zMM:&imgrefurl=http://www.amazon.com/Compartments-Storage-Organizer-Display-Containers/dp/B007N0EN8U&docid=oSlKbWis9Q935M&itg=1&imgurl=http://ecx.images-amazon.com/images/I/51OwiQGVRCL._SL500_AA300_.jpg&w=300&h=300&ei=RG9hUObDOfCLyAGZ-oDgDA&zoom=1&iact=rc&dur=313&sig=114209548998281359178&page=5&tbnh=154&tbnw=154&ndsp=28&ved=1t:429,r:18,s:113,i:157&tx=35&ty=111 I get them at Michaels or the Hobby Lobby. I just got a bunch on sale for $1.50 each.
They are for bead storage for jewelery, but they work nicely for me because I have problems with my wrist opening jars all night. I also have each of my colors labeled. So I can do some really cool tats with all shades of one color because I can just pop open the lid and boom, boom, boom easy as pie. The cool thing is I have one with rainbow colors (ROYGBIV) so if someone wants rainbow, its super easy to just pop them open and dip in the glitter, close it, and open the next one.

Some of my glitter fairies like to have the little pots so for them I use http://www.createforless.com/Darice+Jewelry+Designer+Bead+Storage+System++With+30+Containers/pid174755.aspx because I have 30 colors so it works nicely. I like these small containers too because when I knock one over, I dont lose too much glitter! LOL!

They also fit in my little caboodle kit that I have which is basically a makeup kit. I usually just use the makeup kit for birthday parties so Im not lugging around a big bag of stuff. It fits my brushes, glue, fan, business cards, post cards, alcohol swabs, everything but my stencils.

http://www.caboodles.com/#/products
I got mine on clearance at Walgreens for $15, but I love it. I think they sell for $30 at Walmart

theglitterfairy




Number of posts

: 12


Registration date :

2011-07-10



I staryed off using a caboodle for my paints, then moved my glitter in when i got that and got a bigger case.for my paints..and all my glitter stuff fit xcept my tatts...but the handle broke where it snaps on so i decide to find something else. I
I love the plastic kit you have found. It looks like it will work perfectly. I am going to head to my Walmart today to see if we have them here. And they are so reasonably priced...even better! Plus I love that its clear plastic so I can go crazy decorating it!!! If you dont have a business card holder yet, I did find some at Walmart for only $1. They had black and clear. Just in case you were interested in one. Thanks for the great post!

theglitterfairy




Number of posts

: 12


Registration date :

2011-07-10



I went back today..and they got an even bigger one. Its like three times bigger..but i have nothin to put it at the moment.

---
Permissions in this forum:
You
cannot
reply to topics in this forum