I'm fairly new to face painting and was wondering what people use when they're painting bruises and black eyes (or shading under zombie eyes etc.) also what do you use for shading and contouring a face for a zombie, skull or any design where you don't want what you're painting to look too opaque? TIA!
ugggggg, doing light stuff is my bane of face painting. Even blush, it's all cr@p. If i want to make realistic wounds and bruises I need to have my FX kit with me. 

BUUUUUUUUT! I'm looking into Mehron Starblends, as I have heard GREAT things about them for various face painting applications from stencils, to getting an neat and clean opaque white. I'm thinking I could also use them for light shading, bruises and or course the elusive blush.
I'm glad I'm not the only one!.. I have mostly tag paints which I really struggle to use for shading and contouring so I did purchase a black starblend specifically for shadinf which is ok but still a bit tricky, I may just need more practice with it. What do you use from your fx kit for a bruise?
I was wondering if a creamier brand of paint would work even?

mehron paradise, ben nye, and kryvaline all make bruise wheels in 4-6 colors, however they are grease paint.  but you could use the same colors of water based face paint.  there are YouTube videos of how to use them.

softer, non-paraffin based face paints do usually blend better.  they include mehron paradise, global, ruby red, and snazaroo.

as for technique, most people swipe on a darker color and blend with a dry brush or sponge.
Last edited by jlirie on Tue Feb 03, 2015 11:06 pm; edited 1 time in total

jlirie




Number of posts

: 1812


Location

: us


Registration date :

2014-07-31



thank you so much for the feedback

I have a zombie youtube using Starblends and I use that same brownple color (with green and yellow and purple) to really bruise people up. Let me link the video first:

Starblend Zombie
Here's some subtle bruising and scrapes & cyborg. I like drybrushing with a rake brush (the random fuzzy bristles, not evenly spaced one) to make scrapes: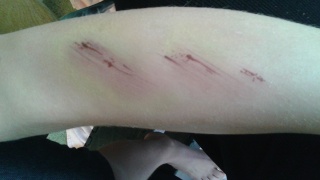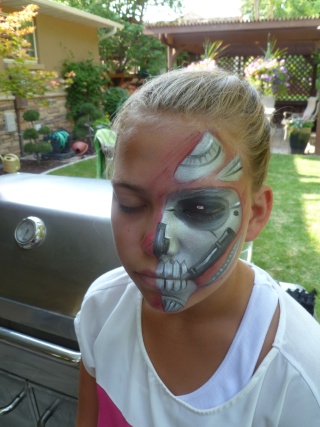 Last edited by Denise Cold on Tue Feb 03, 2015 8:10 pm; edited 1 time in total (Reason for editing : added cyborg)
that's one of the better cyborg designs i've seen, denise


jlirie




Number of posts

: 1812


Location

: us


Registration date :

2014-07-31



It's based on the Wolfe Brother one in Extreme Face Painting.

well, you did a great job with a good inspiration

jlirie




Number of posts

: 1812


Location

: us


Registration date :

2014-07-31




---
Permissions in this forum:
You
cannot
reply to topics in this forum